Camus (カミュ, Kamyu) is a member of the idol group QUARTET NIGHT and the senior assigned to train Cecil Aijima during the Master Course. He is voiced by Tomoaki Maeno (前野 智昭, Maeno Tomoaki).
Appearance
Camus is a tall, young man with long blonde hair, a pale complexion, and icy blue eyes. He wears white and navy clothes with silver accessories. His clothes are often formal and elegant. He also carries a scepter-like rod with a blue gem.
In the game, he also wears spectacles to read.
Personality and Interests
Camus can appear to be two-faced; he has a different attitude on and off-screen. He seems quite irritated with his kouhai Aijima Cecil, but he is kind and gentlemanly in front of fans. He's very proud of his country and can sparkle when he talks about it. Camus has no intentions to get friendly with people outside of 'work' obligations.
He seems charismatic, graceful, and courteous. However, he only appears so to the public. His real nature is cold and callous, as he cares about no one except his loyalty to the queen.
He often gets into arguments with Ranmaru because of his preaching which Ranmaru isn't inclined to listen to, especially when it isn't about rock. Camus takes a lot of notes and does a lot of research.
History
He came from the Kingdom of the Permafrost, specifically the Silk Palace, and is the scion of an earl family who served the Queen of Silk Palace. It is revealed that ever since he swore loyalty to the Silk Queen, he was given the name Camus and chose to live by it.
He came to Japan to meet Shining Saotome for some reason and was scouted to become an idol. In Permafrost none of the residents bear surnames. In All Star, Camus allows Haruka to choose a name for him. She chooses Cryszard, a fusion of Crystal and Blizzard. Camus chose the middle name R which is supposed to represent eternity although it's said to be Rondo as that is how he pronounces it in the game.
Anime
In the first episode, Camus appeared to ST☆RISH as a projection, singing Poison Kiss along with the other members of Quartet Night.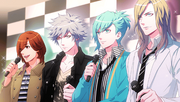 Camus first appeared to Cecil Aijima in episode two, calling him a fool to speak of love so boldly in the Master Course when overhearing him talking to Haruka Nanami. When appearing to the group he introduced himself as the Count of Silk Palace from the Land of Permafrost. He then continued, saying that Cecil should be grateful, for he would be his senior. When hearing this, Cecil stated that he had no need for a senior because he was not interested in becoming an idol. Camus appeared frequently throughout the second season as Cecil's sempai in order to teach him lessons or give him specific directions.
Gallery
See here: Camus/Gallery
Song Chronology
Released on October 26, 2011

Released on September 05, 2012

Released on September 25, 2012

Released on September 26, 2012

Released on December 26, 2012

Released on June 26, 2013

Released on February 26, 2014

Released on July 30, 2014

Released on August 27, 2014

Released on May 13, 2015

Released on July 1, 2015

Released on June 24, 2015

Released on September 30, 2015

Released on December 09, 2015

Released on October 2, 2016

Released on December 21, 2016

Released on May 24, 2017

Released on August 08, 2017

Released on November 11, 2017

Released on January 08, 2018

Released on February 07, 2018

Released on October 17, 2018

Released on November 21, 2018

Released on January 16, 2019

Released on June 14, 2019

Released on August 28, 2019

Released on December 25, 2019

Released on April 15, 2020

Released on September 16, 2020 (future release)

Trivia
Similar to the other members of QUARTET NIGHT, Camus has a designated theme color. His is ice blue.
His half-personality is the same as Jinguji Ren.
His hobbies are horse riding and fencing.
He is a good ice skater, and can easily perform Triple Axels.
He has a dog named Alexander that strangely resembles him a bit. Alexander is a borzoi.
He doesn't seem to like the spring season too much since he thinks that spring is half-hearted and prefers the summer season since he can take Alexander for long walks.
He likes sweets that can be eaten with tea.
He calls everyone by their last names.
Community content is available under
CC-BY-SA
unless otherwise noted.