Tsukimiya Ringo

Anime

 | 

Game

The vivid character hides the weakness.
Name
Kanji
月宮 林檎 (つきみや りんご)
Romaji
Tsukimiya Ringo
Characteristics
Age (game)
23 (UN☆PS♪/R), 24 (AA), 25 (D/AS)
Age (anime)
23 (Season 1), 25 (Season 2)
Birthday
September 15
Horoscope
Virgo
Height
173 cm (5' 8")
Weight
56 kg (124 lb)
Gender
Male
Blood Type
A
Saotome Academy
Class
A Class (adviser)
Instrument
Clarinet
Appearances
Original
appears, not playable
Fandisk
appears, playable
Music
does not appear
Debut
appears, not playable
All Star
appears, playable
Music 2
does not appear
Voice
Seiyuu
Nakamura Yuuichi (中村 悠一)
Ringo Tsukimiya (月宮 林檎, Tsukimiya Ringo) is the adviser of the A Class, and is known as a cross-dressing idol. He is voiced by Yuuichi Nakamura (中村 悠一, Nakamura Yuuichi).
Appearance
Edit
He has very androgynous features with big blue eyes and long eyelashes. He wears a long and curly pink wig that reaches his waist. He usually wears a turtle neck yellow sweater with sleeves and long black-grey leggings. In the game, he is seen without his wig whenever he isn't teaching.
Personality
Edit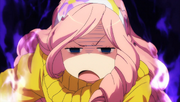 He can be seen as a very cheerful, nice, playful, and sometimes sassy person. Ringo is also pretty stylish. In the first episode of the anime, he said that he can be called "Ringo-sensei" or "Ringo-chan." He can also be scary when he is angered - especially when he is not noticed as a guy or if someone doesn't recognize him as a famous idol. He can also be seen toying with his friend and colleague,
Ryuya Hyuga
. He also mentioned to
Haruka
(playfully) that he wrote her down to be final audition partners in Season 1 Episode 9 of the anime.
In the game, it is revealed that the agency told him that because of his cute looks, he should act more feminine. Therefore, they forced him to cross-dress to get any work.
See here: Ringo Tsukimiya/Game.
See here: Ringo Tsukimiya/Anime.
See here: Ringo Tsukimiya/Manga.
Relationships
Edit
See here: Ringo Tsukimiya/Relationships.
See here: Ringo Tsukimiya/Gallery.